This page was last updated on Saturday, 17 May 2003 at 1500Z
Links to other related pages on this site:
PCN/GSM Network Commands or Codes
UK Orange users can click here or here for comprehensive roaming information.
I joined Orange on their launch day, Thursday 28 April 1994, having become increasingly fed up with the Vodafone analogue service. It was becoming a daily problem not being able to make or receive calls during office hours because of capacity limitations. Orange provided an immediate improvement, but they had more limited coverage. The coverage situation on Orange has improved very rapidly indeed to a point now that it is rare, but not impossible, to find an area with no Orange service.
Having been new to a developing network back in 1994 I have been very aware of new and modified Cellular Base Stations appearing as time has gone by, not just for the Orange network, but also for the other three UK networks – T-Mobile, O2 and Vodafone.
Below are pictures of various sites. Once upon a time a mast or tower would normally only hold antennae for one network. It is now quite common to see two or even three networks sharing the same mast or tower. I have yet to see a site with all four networks' antennae on board! These have all been taken with a Kodak DC20 digital camera. I'll see what I can do to produce better pictures in time. I'll add new ones above the older piccies as and when I get them.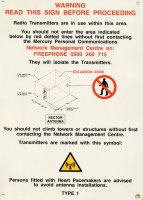 T-Mobile – this warning sign is self-explanatory! Click on the picture for a larger, clearer view – May 2001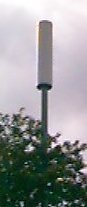 Orange – this fake lamp-post recently appeared on the Oxford eastern bypass between the Cowley flyover and the Littlemore roundabout. That makes three Orange BTSs within a couple of miles of each other. I expect this is what has improved the dreadful congestion problems in the Cowley area in late 1999/early 2000 – 26 Sep 2000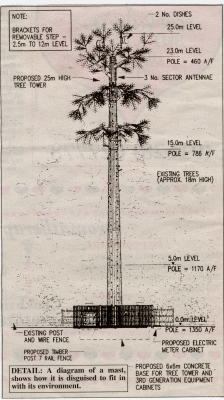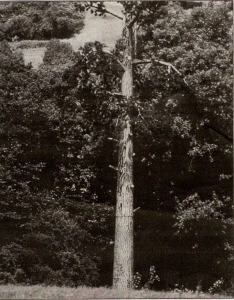 Orange – these scans from a local newspaper a few months ago relate to the dispute about a proposed new BTS in Beaconsfield, Buckinghamshire. I don't know whether this has actually been constructed yet, but I thought the design picture was worth putting here – 05 Jul 1999

Orange – this site on top of Burnham telephone exchange, Buckinghamshire, shown partly built further down the page, has now been completed – the microwave horn has been added since the previous piccy. It finally became operational on Friday, 14 May 1999. I am told by a very reliable source that, while the contractors were digging a trench to feed power to the site equipment, they manged to JCB their way through approximately 1,500 telephone lines, knocking out a large part of Burnham's telephone service. Oops! – 10 Apr 1999
Vodafone – by the A330, close to M4 Junction 8/9. This was originally a 'toasting-fork' array with offset elements and the mast running up between the elements to the same height. It then became a cylindrical array with swirls running up and down the cylinder before being replaced with its present version – 13 Mar 1999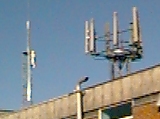 Orange – (the stalk on the left) this site is still under construction and is on top of Burnham telephone exchange, Buckinghamshire. This shares the same O2 site shown further down this page – 07 Feb 1999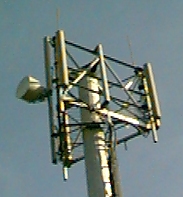 Orange – most of their sites seem to look like this. East of the A4074, adjacent to RAF Benson, Oxfordshire – 15 Oct 1998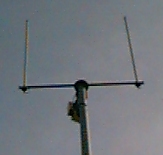 Vodafone – east of the A4074, adjacent to RAF Benson, Oxfordshire. Co-sited with the picture above – 15 Oct 1998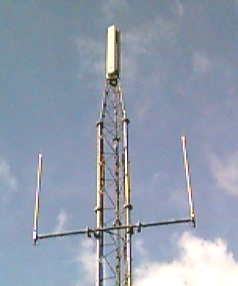 Vodafone – by M40 Junction 6. This was originally a 'toasting-fork' array with offset elements and the mast running up between the elements to the same height – 15 Oct 1998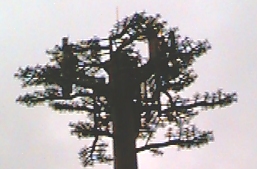 T-Mobile – or so I was led to believe by the farmer – the antenna elements look the right size for 1800MHz PCN but there was no end-stop signal on either an Orange or T-Mobile handset. I think further research is needed here. This site is, quite obviously, an immitation tree type at a farm in Burnham, Buckinghamshire. It is quite new, around June 1998 – 27 Sep 1998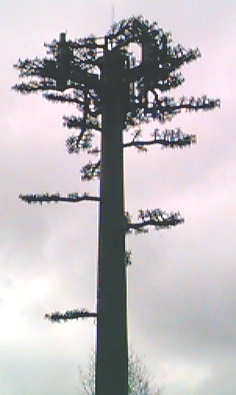 T-Mobile – this is the same site showing more of its 'branches' – 27 Sep 1998

Orange – south-eastern part of the Oxford Eastern Bypass at the Heyford Hill or Sainsbury's roundabout. This used to be a 'toasting-fork' type site – see below – 26 Sep 1998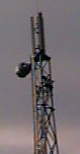 Orange – several sites like this have been popping up recently. This one is on the southern side of Thame in Oxfordshire and is very new. There is another like it between M40 Junctions 3 and 2 and another on the A404, south of M40 Junction 4, though this latter site may indeed be T-Mobile – 26 Sep 1998

Orange – across the road from Burnham station, Buckinghamshire. This, obviously, is one of the 'toasting-fork' sites mentioned above – 26 Sep 1998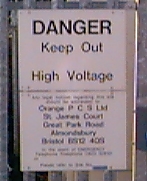 Orange – how do you know who's site it is? This one's not that clear but it says so! Alternatively, tests, experience and observation give it away ;) – 26 Sep 1998

Orange (below), T-Mobile (below) & Vodafone (above) – just south of M40 Junction 7 – 26 Sep 1998

O2 – Burnham telephone exchange, Buckinghamshire – 26 Sep 1998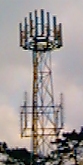 O2 (above) & Vodafone (below) – M40 Junction 2 – 26 Sep 1998

Vodafone – a cylindrical array with swirls running up and down the cylinder just north of M40 Junction 5 – 26 Sep 1998

T-Mobile – just west of M40 Junction 2. This used to be just a two-pronged 'toasting-fork' site, the prongs are still visible – 26 Sep 1998

Orange & T-Mobile – wrapped round near the base of a BT microwave tower just off M40 Junction 5 – 26 Sep 1998

Vodafone – A355 Windsor, Berkshire – 26 Sep 1998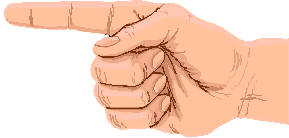 Back to my front page
Copyright © 1996-2019 Bruce Gilson
Powered by